When you are in loved with tennis playing ,but can not always find a tennis partner or coach to play or train with , how to do then ?  In this case,  buying an automatic tennis shooting machine for your training / playing will be the top choice .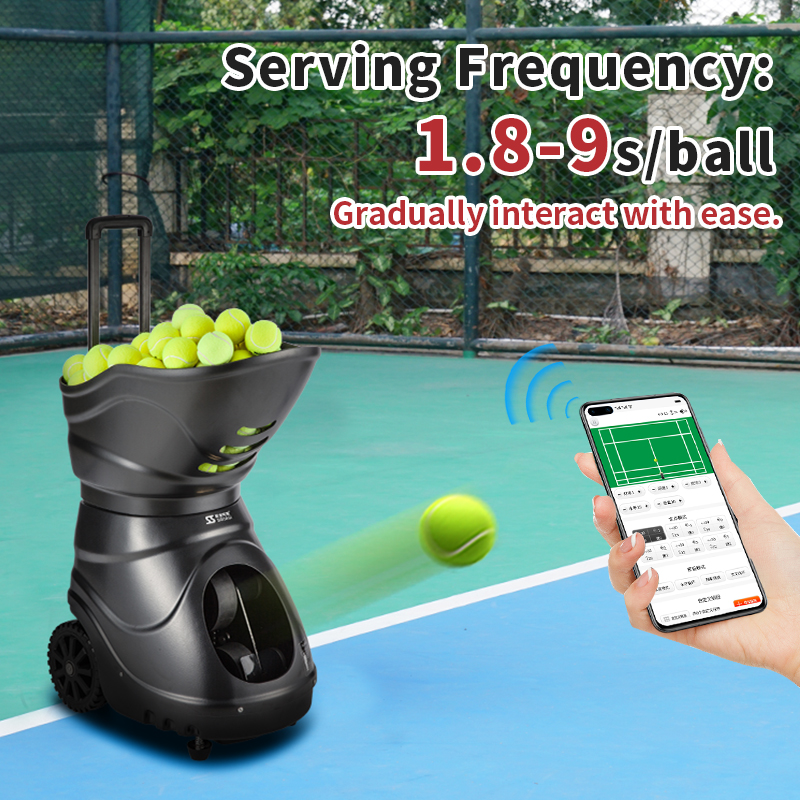 If owning an automatic tennis machine, you could play or train the tennis sports at any time you like , no need to book with coaches, no need to book with tennis playing partners , it would be your best  tennis playing or tennis training partner,  it would lead you to enjoy a real game , as it just like a real playing partner, could shoot out different balls (smash ball, random ball, cross line ball, fixed-point ball, topspin ball, backspin ball etc.) , and speed and frequency both could adjustable as you want, also self-programming function: could set out the ball you want to shoot, very intelligent /smart . The net weight of such shooting tennis ball machine is about 20-28 Kgs , very portable ,the machines are with moving wheels also,  could carry it around very easily even you are small girls .
Some popular models in global market for your ref.below , hope could help.
A. Siboasi S4015 tennis ball shooter :
Tennis trainer machine siboasi S4015
 
1.Smart LCD remote control with full function(speed,frequency,horizontal angle,spin)
2.You can realize different modes of training by intelligent programming.
3.internal battery with large capacity can last 6-7 hours which allows you to have fun when playing tennis.
4.Remote control different vertical and horizontal elevation, arbitrary choice of placement
5.Random function
6.6 kinds of top and back spin adjustment
7.Remote control different vertical elevation of two line function(wide,middle,narrow)
8.One button to choose six kinds of cross-line ball
9.One button to choose different horizontal ball.
10.One button to choose different vertical elevation ball.
11.LCD display of battery level on the machine
12.Capacity:160pcs balls

B. New top hot seller model : T2100A tennis launching machine :
App model siboasi T2100A
                          
1.Both APP control  and Remote control with full function (speed, frequency, horizontal angle, spin)
2.You can realize different modes of training by programming. function;
3.internal battery with large capacity can last 6-7 hours which allows you to have fun when playing tennis.                                                                                                   4.Both Mobile APP control and Smart remote control for this model ;
5.Programming functions in more points : 35 points in total then other S4015 model ;
6.Could set the quantity of balls shooting which other models do not have this function;
7.Remote control power off memory;
8.Show out the quantity of stored modes  ;
9.Vertical and horizontal oscillation training;
10.Random function,fixed point function
11.Lob ball function, ,three line function
12.Different vertical elevation of two line function(wide,middle,narrow)
13.LCD display of battery level on the machine
14.Capacity:160pcs balls

If are interested doing tennis sports business or buying a good tennis training device , could contact directly :
---
Post time: Jun-25-2022