Basketball Passing Machine S6839
Product Detail
Product Tags
Basketball shooting machine or basketball passing machine is an automatic rebounder. These ball machines rebound and pass back both made and missed shots, which help basketball players to get up more shots in less time. S6839 is the top model of SIBOASI indoor basketball training machines, 5 pre-set programs and 17 optional locations displayed on the LED panel allow you to work on your game alone much easier on the half court from any spot. S6839 is the ultimate solution for progressive basketball coaches and players to get quality workouts at any time. The number of increased repetitions a team can get when utilizing a basketball automatic shooting machine is undeniably very valuable.
Our Advantage:
1. Professional intelligent sports equipment manufacturer.
2. 160+ Exported countries; 300+ Employees.
3. 100% Inspection, 100% Guaranteed.
4. Perfect After-Sale: Two years warranty.
5. Fast delivery : warehouse nearby
SIBOASI ball machines manufacturer employs the European industry veterans to design and build the professional R&D teams and production test workshops. It mainly develops and produces football 4.0 high-tech projects,smart soccer ball machines,smart basketball machines,smart volleyball machines,smart tennis ball machines,smart badminton machines,smart table tennis machines,smart squash ball machines,smart racquetball machines and other training equipment and supporting sports equipment, has obtained more than 40 national patents and a number of authoritative certifications such as BV/SGS/CE. Siboasi first proposed the concept of intelligent sports equipment system, and set up three major chinese brands of sports equipment (SIBOASI, DKSPORTBOT, and TINGA), created four major segments of smart sports equipment. And it's the inventor of the sports equipment system. SIBOASI  filled a number of technological gaps in the world's ball field, and is the world's leading brand in ball training equipment, now become well known in global market….
Intelligent Shot Counter:
With the high precision sensors of S6839, your data: shot attempts and makes along with the shooting percentage can be 100% accurately counted and displayed on the machine, allowing you to track the stats for specific training.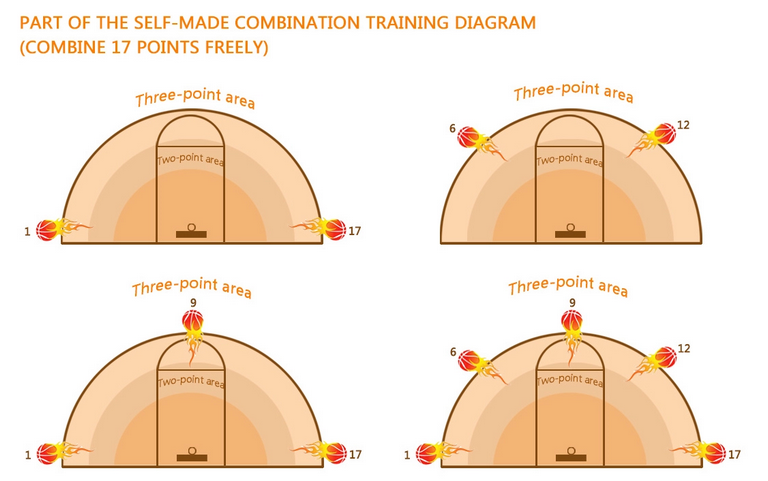 Easy installation:
With the humanize-designed circulating net system, the whole installation process can be done within 20 seconds.
Drills-programming:
1-17 spots can be selected from the half court, working with the circulating system, more than 1 player can carry out drills at the same time. Coaches can program drills with particular purpose for the player to excute. S6839 serves as a rebounder or passer for these drills, just like a teammate helping the others to improve. The coaches don't need to rebound or pass the ball, they can more focus on oberseving the practice and correcting the players. Rather than a basketball shooting return machine, S6839 plays the role more like an assistant coach!
Ball Serving Adjustments:
With the adjustable throwing wheels, different speed and intensity of ball serving can be realized on the machine.The serving distances range from underneath the basket to beyond the arc, which allows to work on your shooting at any spot.In additional, by changing the serving height and frequency, the machine will simulate live game situations with different angles and drop points to practice your movement and shooting form in a real game.The machine will be a game-changer and vital to accelerating development.
---
---